Schedule Appointments
Online Schedule: Make an Appointment
Phone: (781) 235-1038
Initial Visit:
Please download and complete the HEALTH HISTORY FORM and bring it in for your first appointment. Alternately, you may choose to arrive at the clinic 15 minutes before your scheduled appointment and fill all necessary forms in at that time. Please give yourself an hour and half to be at the clinic at the time of your first appointment.
Service Rates
Please call the office for further information. Acupuncture may be covered by your health insurance provider. Some HMOs offer a discount for acupuncture treatments. Please contact your individual insurance company for details regarding coverage.
Office Hour:
Tuesday 9 AM – 7 PM
Wednesday 9 AM – 6 PM
Friday 9 AM – 5 PM
Saturday 9 AM – 12 PM
Address:
572 Washington Street, Suite 3 Wellesley, MA 02482
The entrance is located in the 572 Washington Street (Rotunda Building).
Parking:
There are plenty of meter parking spaces (fifty cents an hour.) along Washington Street, Church Street and nearby streets. You can also park in the Cameron parking lot (next to the Wellesley Free Library). The office is just one block away.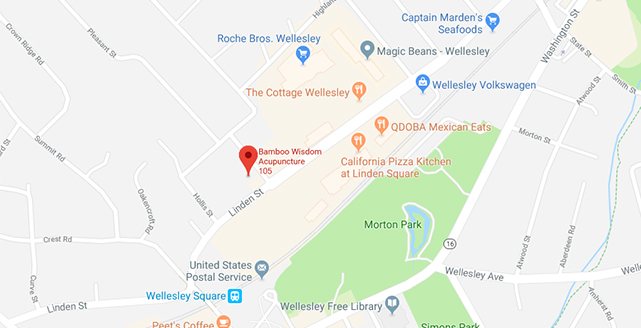 What do I have to do before the treatment?
Please wear loose clothing (e.g. sweatpants, a comfortable T-shirt, shorts, etc.), refrain from wearing make-up, perfumes/colognes and keep jewelry to a minimum. These will help for access to the acupuncture points, as well as to promote an environment of relaxation. We suggested having a light meal before treatment.
Cancellation/No Show Policy:
Please give us 24 hours notice if you need to cancel an appointment or reschedule to a later date. If you miss an appointment or cancel or reschedule it to a later date with less than 24 hours notice, then $20 cancellation fee may be applied.